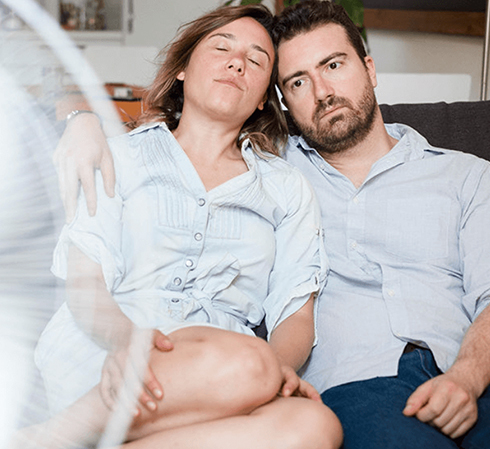 Regular air conditioning maintenance is key to helping minimize the need for costly AC repair in New Braunfels. And when it comes to air conditioning in New Braunfels, HomeFront is the air conditioning company you want on your side. While some air conditioning maintenance can be done on your own, it's important to have an air conditioning company that specializes in AC repair in New Braunfels that you can call.
The summer heat in Texas is no joke. HomeFront understands the need for reliable air conditioning maintenance services to help keep your home comfortable during the warmer months, and all year long. That's why we've made it our mission to offer exceptional air conditioning repair and maintenance services at reasonable prices. We want to be known for AC repair in New Braunfels and beyond.
There's nothing worse than requiring air conditioning maintenance services and not being able to depend on a local air conditioning company to provide the services you need when you need them. At HomeFront, our team is dedicated to offering AC repair in New Braunfels you can count on.
OUR AC REPAIR AND MAINTENANCE SERVICES
WE DIAGNOSE THE PROBLEM, INVESTIGATE SOLUTIONS AND OFFER YOU OPTIONS
AIR CONDITIONING REPAIR
There's nothing worse than air conditioning breaking down on the hottest day of the year. Get your New Braunfels AC repair done in time and keep your home cool and comfortable during the hot and humid summers. Our HVAC technicians diagnose the root cause of the problem to ensure the air conditioning repair is done quickly and correctly.
AIR CONDITIONING MAINTENANCE
We provide precision tune-up of your air conditioning system to maintain its top performance during its life cycle. From your thermostat and system controls to the electrical connections and air filter, we ensure everything works safely and effectively. Call us to schedule your routine air conditioning maintenance service.
AIR CONDITIONING CLEANING
Get your AC unit cleaned by professionals before it gets worse! Our experienced HVAC technicians are experts in handling AC cleaning services for a variety of system types, brands and sizes. We will examine your air conditioning system to make sure the job is done right the first time.
THERMOSTAT INSTALLATION/ REPLACEMENT
Maintain your home's ideal temperature with quality and properly installed thermostat. HomeFront's certified HVAC technicians will help you choose the right thermostat that will work best for your family. We can even help you program it for optimal efficiency and comfort!
THE NEW BRAUNFELS AC REPAIR TEAM YOU CAN COUNT ON
WE COMBAT YOUR AC CONCERNS
REGULAR AIR CONDITIONING MAINTENANCE
Just like any other mechanical component, your air conditioning system must be maintained regularly. Here in Texas, requesting air conditioning maintenance services around springtime is critical to be prepared for the coming heat. (*Most warranty programs require documented maintenance to be completed for coverage to be honored). Our Team HomeFront Club Program takes care of all of this for you!
THERMOSTAT INSTALLATION/REPLACEMENT
When properly placed, installed, and operated, your control (thermostat) can lower utility expenses and improve the comfort of your home significantly. At HomeFront with every new system, thermostat replacement, or controller installation we offer a walkthrough upon installation, a custom guide, and mobile assist access. With a Nexia-enabled controller, we will maximize the efficiency of your controller and system remotely.
SYSTEM DIAGNOSIS AND RECOMMENDATIONS
At HomeFront, we want to help you make your home a comfortable place. In some cases, your air conditioning system may not be sufficient to cool your home. But sometimes, it may just need some simple repairs to get it functioning properly again. Our technicians are skilled at assessing and diagnosing your air conditioning repair needs, or whether a replacement is needed. We'll inform you of your options and help you make the best decision possible.
HOMEFRONT PROFESSIONAL SERVICE STANDARDS EXCEED EXPECTATIONS
HomeFront strives to deliver services above the industry standard. We pride ourselves on maintaining a professionalism that leaves our customers delighted with our service. When you reach out to us for air conditioning repair and air conditioning maintenance services you can expect the very best service delivery. When you work with us, you can expect:
CERTIFIED AND LICENSED TECHNICIANS

Every visit includes a fully-certified and licensed technician with over two full years of verified experience and/or graduating from the HomeFront Base Camp training program. We welcome new technicians, but they will always be accompanied by a certified trainer or lead technician and be actively enrolled in the Base Camp training program. This ensures the highest degree of service quality for your air conditioning system and effective time management while in your home.
FLEXIBLE, NO-PRESSURE SERVICE OPTIONS

We service all brands and types of equipment while offering the most flexible of services. When we visit your home, we have an obligation and a commitment to provide you with the right solution for you and your family. From the accuracy of our diagnoses to meeting your financial budget, we're committed to giving you the information you need to do what's best for you.
IN-DEPTH ANALYSIS & EXPLANATION

Every problem is thoroughly diagnosed, as we understand that many problems can cause or be caused by a "domino effect." Simply repairing the first issue discovered may not resolve the entire issue. Several applicable repair options will be clearly explained and delivered in a simple presentation so you can make the best choice for your home.
DEPENDABLE AIR CONDITIONING REPAIR SERVICE

A frozen air conditioning system is just one example of a system in need of repair. It may also be something as simple as a clogged filter, but it's important to shut your system off completely and have a professional air conditioning technician assess the situation to prevent further damage. Let the system thaw out naturally, and then call your local air conditioning company to provide timely repairs. We're here to help with all air conditioning repair needs big and small.
WE ARE CUSTOMER-CENTRIC. WE PROTECT YOU. WE OFFER WARRANTIES TO SAFEGUARD YOU.
STANDARD FACTORY
WARRANTIES
Standard factory warranties vary by manufacturer, but are typically as follows:
Equipment Warranties (System Replacements): Most of our manufacturers offer a 10-year parts warranty for equipment that is registered. For unregistered equipment, the warranty is reduced to five years.
Contractor Warranty: The standard warranty for labor is coverage for one year from the date of installation.
Service/Repair: Service and repairs typically fall under the same warranty as the equipment, with 10 years for registered equipment or five years without registration.
TEAM
HOMEFRONT PRO
Team HomeFront Pro is our exclusive and comprehensive warranty plan. This plan includes:
10-year parts and labor warranty from the date of installation
Coverage for all potential repairs needed within the next 10 years
*This plan must be purchased and combined with systemoptions or can be selected as an add-on item at the customer's request.
TEAM
HOMEFRONT CLUB
Team HomeFront Club is a two-year, complimentary maintenance plan that comes with every system. This plan includes monthly/annual maintenance for two years.
Team HomeFront Club Membership is available and encouraged for any customer with a qualifying system even if it is not installed by us.
*Maintenance coverage only. Labor coverage is not included. Customers may purchase extended coverage and/or upgrade to the Team HomeFront Pro warranty plan for labor coverage.
*Discounts cannot be combined.
Up to $1000 Off Instantly on Select Systems OR Zero Interest Financing W.A.C.
Nothing Down! No Interest Financing!
Need it Fast! We have you covered! While supplies last.
Veterans, First Responders and Educators
Never a Service Call and 15% off Repairs and Special System Replacement Pricing or Financing Promos
Home of Team HomeFront Pro
10 Years Parts and Labor Coverage
WHAT OUR HOMEFRONT CLIENTS ARE SAYING