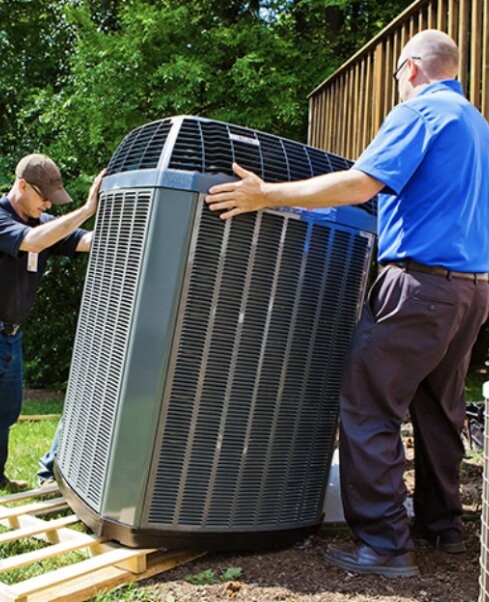 Air conditioning replacement can be a daunting task, but it doesn't have to be. At HomeFront, we aim to make air conditioner replacements and heating replacements as simple as possible.
While there are many companies out there claiming to specialize in air conditioner replacement in New Braunfels, TX, HomeFront believes we are different.
When you need AC unit installation or air conditioning replacement services, many companies send a salesman out for an initial consultation. These representatives don't necessarily have your best interests in mind. While they claim to be the best air conditioning installation company around, it's important to do your research and find an AC installation company that cares.
We want to make your home the most comfortable and safest place. We can fit your home with professionally installed systems and products that are specifically designed for your maximum comfort.
While we hope you don't need air conditioning installation in New Braunfels, TX, any time soon, we hope you'll choose HomeFront when you do.
We're dedicated to providing top-quality air conditioning replacement in New Braunfels, TX, so you can enjoy spending time in your home any time of year.
OUR AC INSTALLATION & REPLACEMENT SERVICES
RELIABLE AND CONVENIENT SOLUTIONS
PROFESSIONAL EVALUATION
A HomeFront technician will complete a professional evaluation of your home to include proper sizing, airflow, and filtration. Once the evaluation is complete, we will present you with several clear and detailed options to choose from with upfront pricing and no hidden costs. Never just one.
DUCTLESS MINI SPLIT INSTALLATION
A ductless mini split installation can be the ideal solution if conventional AC systems don't work for you. Our highly-trained and certified HVAC technicians can walk you through options and pricing for the perfect mini split AC system for your home.
CENTRAL AIR CONDITIONING INSTALLATION
Upgrading to a central air conditioning system? Our HomeFront technicians are licensed and insured to properly install central air conditioners of all types. We will ensure your new central air conditioning system is installed quickly and correctly.
AC REPAIR & MAINTENANCE
We keep your air conditioning system in prime condition with reliable AC repair and maintenance services. Our professional technicians diagnose and repair the root cause of the problem so that you're comfortable all year long.
THE NEW BRAUNFELS AC REPAIR TEAM YOU CAN COUNT ON
WE HAVE THE ANSWER TO KEEPING YOU COOL
ESTIMATE TO REPLACE COMPLETE SYSTEM
A HomeFront technician will complete a professional evaluation of your home to include proper sizing, airflow and filtration and present you with several clear and detailed options to choose from with upfront pricing and no hidden costs after the evaluation is complete.
While AC repair and maintenance services are important to keep up with, your system won't last forever. When it comes to AC unit installation and replacement, HomeFront is here for you.
MAINTAIN THE COMFORT OF YOUR HOMEFRONT WITH RELIABLE AIR CONDITIONING INSTALLATION
How can HomeFront help you maintain the comfort of your homefront? We are committed to delivering the best air conditioning replacement in New Braunfels TX. Here's how we do it:
23 YEARS OF INSTALLATION EXPERIENCE

Our installation department proudly boasts over 23 years of experience and is run by our very own license holder which demands pin point accuracy and quality workmanship on every job. Our name is literally on it. Some license holders in the industry aren't even involved with the company. This a huge step, and it isn't cheap and often one of the biggest purchases a person makes in their lifetime. We take it extremely seriously every step of the way. Don't worry, the pressure is on us. We got this.
FLEXIBLE SERVICE AND PAYMENT OPTIONS

Unfortunately, this kind of work isn't free. But we are strongly connected to the lending market so we can provide the best funding options for our customers. From low payments, to zero interest plans. We also understand the financial strain that the last couple years may have put on your family. We even offer special financing for less than perfect credit or in some cases, we forgo the credit check completely. We said we want to protect your homefront, we mean it.
IN-DEPTH ANALYSIS & EXPLANATION

Every problem is thoroughly diagnosed, as we understand that many problems can cause or be caused by a "domino effect." Simply repairing the first issue discovered may not resolve the entire issue. Several applicable repair options will be clearly explained and delivered in a simple presentation so you can make the best choice for your home.
THE BOTTOM LINE

Whether you're looking for AC installation, AC replacement, heating installation or heating replacement services, the HomeFront team will deliver the best value with unmatched quality.
WE ARE CUSTOMER-CENTRIC. WE PROTECT YOU. WE OFFER WARRANTIES TO SAFEGUARD YOU.
STANDARD FACTORY
WARRANTIES
Standard factory warranties vary by manufacturer, but are typically as follows:
Equipment Warranties (System Replacements): Most of our manufacturers offer a 10-year parts warranty for equipment that is registered. For unregistered equipment, the warranty is reduced to five years.
Contractor Warranty: The standard warranty for labor is coverage for one year from the date of installation.
Service/Repair: Service and repairs typically fall under the same warranty as the equipment, with 10 years for registered equipment or five years without registration.
TEAM
HOMEFRONT PRO
Team HomeFront Pro is our exclusive and comprehensive warranty plan. This plan includes:
10-year parts and labor warranty from the date of installation
Coverage for all potential repairs needed within the next 10 years
*This plan must be purchased and built into options or can be sold as an add-on item at the customer's request.
TEAM
HOMEFRONT CLUB
Team HomeFront Club is a two-year, complimentary maintenance plan that comes with every system. This plan includes monthly/annual maintenance for two years.
Team HomeFront Club Membership is available and encouraged for any customer with a qualifying system even if it is not installed by us.
*Maintenance coverage only. Labor coverage is not included. Customers may purchase extended coverage and/or upgrade to the Team HomeFront Pro warranty plan for labor coverage.
*Discounts cannot be combined.
Up to $2500 off New Systems
For Veterans, First Responders and Teachers: OR Receive 20% off all heating and air conditioning repair services.
Expires 4/30/23
For First-time Customers: $200 credit towards all heating and air conditioning repair services.
Expires 4/30/23
WHAT OUR HOMEFRONT CLIENTS ARE SAYING