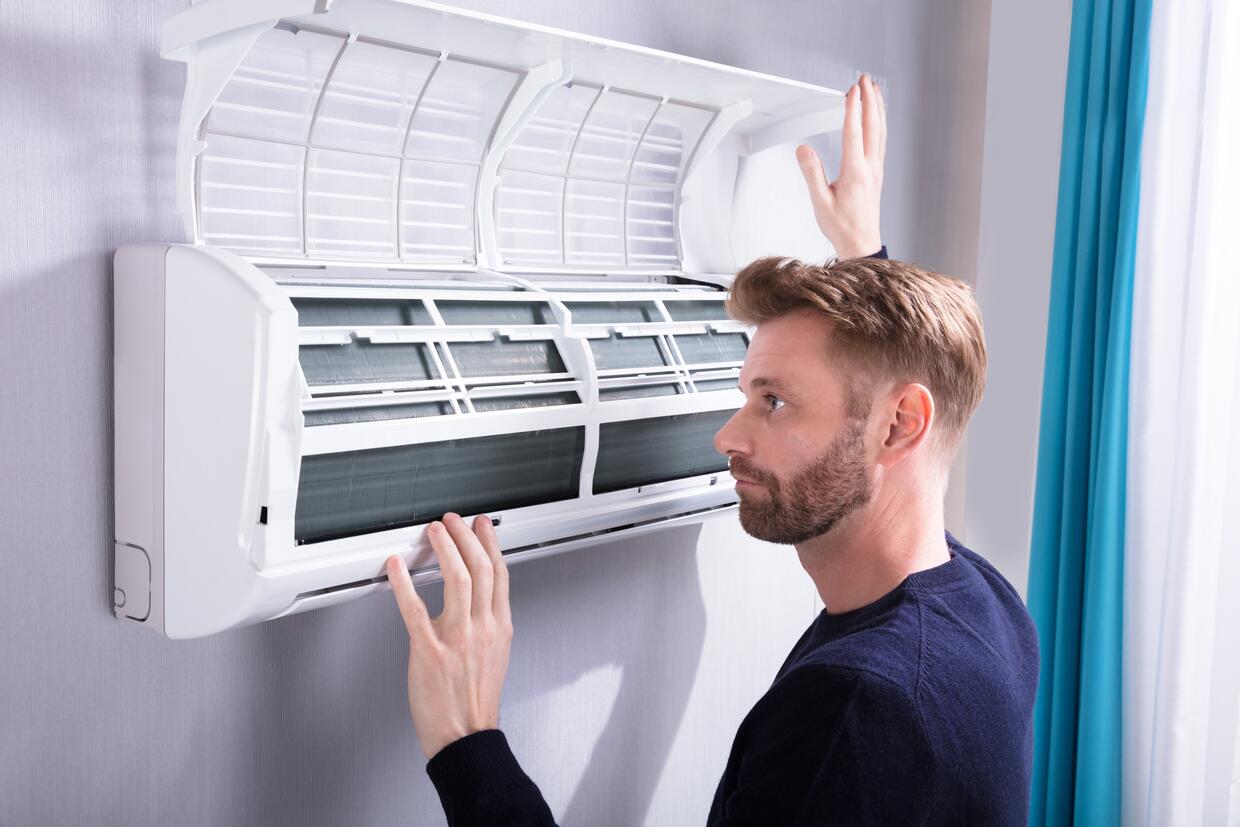 With New Braunfels' hot and humid subtropical climate, preparing your home's air conditioning for the area's warm and muggy summers is critical to staying comfortable throughout the season. Most of the time, enlisting a residential AC service is enough to keep your equipment running smoothly and efficiently. 
However, AC systems don't last forever. Regularly maintained air conditioning equipment can last up to 20 years, while some break down before reaching 15 years. Whether your residential AC unit is nearing the end of its lifespan or you're looking for a more efficient upgrade, your expert technicians at HomeFront can help. 
It can be overwhelming to browse your options with the wide range of systems available today. If you're replacing older HVAC equipment, some of today's technologies may even surprise you. 
But don't fret – your HomeFront team guides you through a successful residential AC installation or replacement by following a systematic approach: 
Installation:

We show up to remove your old unit, install your new equipment and test it to ensure it's working correctly. 
Walkthrough

: After setting everything up, we walk you through the basics of your new cooling system, including daily use and maintenance. 
Cleanup

: Our team cleans up any mess made during the installation, so you won't have to worry about boxes, wires and other debris left behind. 
Warranty and Guarantees

: As your reliable local residential AC service company, we explain your new system's warranties  
Follow-up

: We're dedicated to providing excellent customer service, so we may even check back on you a little while after the installation to ensure you're happy with your new unit. 

Documentation:

You'll receive user manuals, warranty documents and even helpful tips on maintaining your equipment. 
Our residential AC service professionals in New Braunfels will do everything they can to repair your broken air conditioning system. However, when a complete replacement proves to be more cost-efficient than fixing recurring issues, you can trust your HomeFront experts to provide recommendations tailored to your needs and lifestyle.  
Let us help you stay cool and comfortable throughout the summer. If your AC system is 15-20 years or older or suffers from chronic problems, don't hesitate to call us. As a full-service company specializing in AC repair and maintenance, heating repair and maintenance and airflow and indoor air quality, we ensure you enjoy spending time at home throughout the year.
OUR RESIDENTIAL AC INSTALLATION AND REPLACEMENT SERVICES
Proven, Reliable and Convenient Solutions to Your Cooling Needs

PROFESSIONAL
EVALUATION
To ensure a suitable residential AC replacement or installation for your home, our technicians will visit you to inspect your rooms and find suitable, energy-efficient units. Our recommendations come with upfront pricing so your expectations are set.
DUCTLESS MINI SPLIT
INSTALLATION
If your home cannot accommodate conventional AC systems, HomeFront has the expertise and equipment to install ductless mini-splits to help you battle Texas's scorching summers. 
CENTRAL AIR CONDITIONING INSTALLATION
At HomeFront, our technicians are trained, licensed and insured to handle central air conditioner installations. No matter the type or brand of your equipment, rest assured we'll fit it in your home quickly and correctly.
AC REPAIR & MAINTENANCE
Professional installation is crucial, but regular AC repair and maintenance is equally essential in prolonging the lifespan of your cooling equipment. That's why our technicians stand ready to respond to your call and diagnose and repair any issues with your unit. 
THE NEW BRAUNFELS AC INSTALLATION TEAM YOU CAN COUNT ON
No Matter Your Questions or Concerns, We Have the Perfect Solutions

23 YEARS OF INSTALLATION EXPERIENCE
The residential AC installation department at HomeFront takes pride in its 23 years of experience fitting tailored cooling solutions in homes in New Braunfels, TX, and surrounding areas. We combine our time-tested expertise with innovative technology to keep your home cool and comfortable.
FLEXIBLE SERVICE AND PAYMENT OPTIONS
A complete residential AC replacement may be a considerable investment, but we offer various funding options, from low payments to zero-interest schemes, to help make the project more manageable. We want to protect your homefront and defend your comfort, so we keep our services as accessible as possible.
IN-DEPTH ANALYSIS & EXPLANATION
Not every homeowner will have in-depth knowledge of their cooling system. So every time you call us for a residential AC service, rest assured we will thoroughly diagnose and explain the problem with your equipment. We'll also explain your repair or replacement options to help you make the best decision for your home.
WHY CHOOSE HOMEFRONT FOR RESIDENTIAL AC INSTALLATION AND REPLACEMENT
CASUAL, INITIAL CHAT

A residential AC unit installation or replacement is a significant investment, and you need sound advice to make informed decisions and find the right equipment for your home. That's why our technicians at HomeFront are willing to discuss your needs and concerns and schedule a visit to check things out in person. Our team is always available for a casual chat!
HOME EVALUATION

When our technicians visit your home, they look at your current equipment, consider the size of your home, and look for any insulation issues. This in-depth yet free and casual evaluation lets you gain all the information you need to make the best decision – and helps us recommend the best equipment for your residential AC replacement or installation. 
CLEAR ESTIMATES

We'll recommend options based on capacity, energy efficiency, cost, and other features you are looking for. These recommendations come with clear and transparent estimates, so you won't have to worry about hidden fees or unexpected expenses. We lay out everything from equipment costs and labor to optional upgrades in an understandable way.
STRAIGHTFORWARD TIMELINES

We recognize how stressful and disruptive it can be to have workers moving around your home indefinitely. While removing your old system and installing new equipment can take time, rest assured that HomeFront will manage your expectations right from the beginning by explaining how long the entire process will take. 
PRODUCT OPTIONS

Your friendly technicians at HomeFront won't insist on a single recommendation. Instead, they give you a range of options, explaining each unit's pros and cons. You'll also be presented with choices ranging from the most economical to the more permanent, high-efficiency options, allowing you to find the equipment that best fits your home.
PROFESSIONAL INSTALLATION

With HomeFront handling your residential AC compressor replacement or system installation, you gain peace of mind knowing the project is in capable, caring hands. Our technicians handle the entire process with professionalism and attention to detail. Should issues arise, we won't stop until your unit runs as it should. 
STANDARD FACTORY
WARRANTIES
Manufacturers offer varying warranties, but most of them include:
Equipment Warranties (System Replacements)
10-year parts warranty for registered equipment

5-year warranty for unregistered equipment.
Contractor Warranty
One year from the date of installation for installation labor.  
Service and Repairs
Usually falls under the same warranty as the equipment.
TEAM
HOMEFRONT PRO
The exclusive and comprehensive warranty plan, Team HomeFront Pro includes: 
10-year parts and labor warranty from the installation date 

Coverage for all possible repairs needed within the next ten years. 
Note that the plan must be purchased and added to your system.
TEAM
HOMEFRONT CLUB
This two-year, complimentary plan comes with every system and includes monthly or yearly maintenance for two years. 
Even if our team did not install your qualified system, we encourage you to join our Team HomeFront Club Membership to enjoy this benefit. 
Note that this only covers maintenance; labor coverage is not included. You have the option of purchasing additional coverage or upgrading to the Team HomeFront Pro plan for labor coverage. 
*Discounts cannot be combined.
Up to $1000 Off Instantly on Select Systems OR Zero Interest Financing W.A.C.
Nothing Down! No Interest Financing!
Need it Fast! We have you covered! While supplies last.
Veterans, First Responders and Educators
Never a Service Call and 15% off Repairs and Special System Replacement Pricing or Financing Promos
Home of Team HomeFront Pro
10 Years Parts and Labor Coverage
WHAT OUR HOMEFRONT CLIENTS ARE SAYING