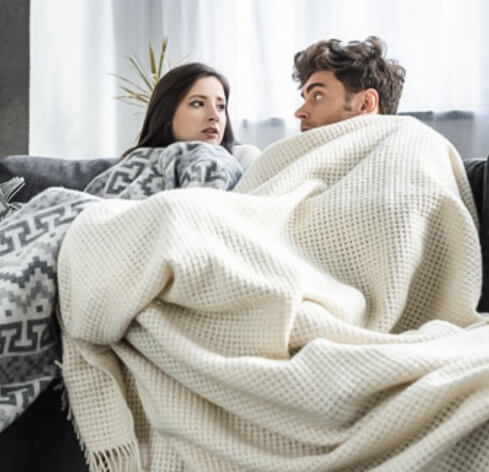 If your home heating system isn't working the way it should be, you're at risk for a variety of issues when winter comes. HomeFront is committed to preventing our customers from getting stuck in the cold and the risks associated with it.
When the cold weather arrives in Texas (and it will), HomeFront is prepared to help with maintenance and heating repair in New Braunfels, TX, and beyond.
Although historically Texas hasn't been known for having very cold winters, experts say Texas will continue to have significant winter seasons (we all remember "Snowpocalypse") in the future. The recent memorable winter was something most Texans weren't used to, and unfortunately, many companies offering heating and air conditioning services were not prepared for it.
At HomeFront, our team is dedicated to offering the most reliable services for heating repair in New Braunfels, TX. We've taken the necessary precautions to be well-prepared for the coming winter seasons in Texas to ensure your home heating systems are prepared for when cold weather inevitably strikes.
OUR HEATING REPAIR AND MAINTENANCE SERVICES
HEATING AND AC REPAIR AND MAINTENANCE WHEN YOU NEED IT THE MOST
HEATING
REPAIR
Is your heating system constantly on the fritz? When getting into the dead of winter, faulty home heating systems are most likely to cause stressful problems at home. Call HomeFront's heating and air conditioning professionals at the first sign of a heating problem, and we'll get it back up and running in no time.
HEATING
MAINTENANCE
Protect your home heating system against damages and early heating and air repairs with periodic maintenance. Our licensed technicians conduct a thorough inspection and tune-up of your furnace to keep it operating at around 95 percent of its original efficiency.
HEATING INSTALLATION & REPLACEMENT
Increased system failures are a sure sign you need a new heater installed as soon as possible. Our trained heating and air conditioning professionals boast years of experience installing all types of heating systems. We work on everything from furnaces and heat pumps and even ductless systems.
AIRFLOW &
AIR QUALITY TESTING
Clogged filtration or restricted ductowrk and other issues can negatively affect airflow and indoor air quality. Don't neglect your home heating system. Schedule your air quality testing today, and our licensed technicians will perform the necessary tests to ensure your family can enjoy improved health and a cleaner indoor environment.
HOMEFRONT IS THE RIGHT CHOICE
OUR TEAM IS COMMITTED TO YOUR COMFORT
RELIABLE HEATING AND AIR CONDITIONING PROFESSIONALS
When it comes to your home heating system, HomeFront has you covered. We offer a variety of services related to heating and air repair and maintenance to keep your home protected during the colder months, and all year long. This includes AC installation and full system replacements for air conditioning, heating repairs and maintenance, and much more.
CONVENIENT AND ON-CALL HEATING, AC SERVICES
When it comes to home heating and air conditioning system problems, we know that time is critical. A down system can cause many more problems than just being hot or cold when you want to be the opposite. Additional issues may include health risks, more extensive and costlier repairs, structural damage, and even premature replacement. Getting the right technician to the right type of call is essential. We prioritize our customers' comfort year-round.
A HEATING AND AC COMPANY A CUT ABOVE THE REST
HomeFront strives to exceed the standard of professionalism with our heating and air repair services. When you work with us, you can expect to only deal with certified and licensed technicians who run an in-depth analysis of your situation. Our team will guide you through what we have found with a presentation so you are equipped to make the right choice for your home. We also offer flexible payment options to suit your budgetary needs.
HOMEFRONT IS PREPARED FOR ALL YOUR WINTER HEATING AND AC NEEDS
HomeFront strives to exceed the standard of professionalism with our heating and air repair services. We ensure the highest degree of service quality for your home heating system and practice effective time management while in your home. When you choose our team you can expect:
FULL STOCK OF HEATING PARTS

Our team is always armed with what you might need. We conveniently keep a full stock of heating parts so you don't have to wait weeks for your home heating system to be repaired.
4-WHEEL DRIVE SERVICE VEHICLES

All of our service vehicles are equipped with 4-wheel-drive to ensure our technicians can make it safely and promptly to your location to provide heating, AC services and airflow assessments when you need them.
PRE-SEASON IN-DEPTH CHECKS

Before the winter season arrives, we offer in-depth pre-season system checks to ensure your home heating system is functioning properly, so there are no last-minute surprises.
INCLEMENT WEATHER INCENTIVES

We know it can be tough to find a reliable provider of AC, heating repairs, and maintenance in the middle of winter. We offer our technicians inclement weather incentives to ensure abundant availability for our customers.
WE ARE CUSTOMER-CENTRIC. WE PROTECT YOU. WE OFFER WARRANTIES TO SAFEGUARD YOU.
STANDARD FACTORY
WARRANTIES
Standard factory warranties vary by manufacturer, but are typically as follows:
Equipment Warranties (System Replacements): Most of our manufacturers offer a 10-year parts warranty for equipment that is registered. For unregistered equipment, the warranty is a standard five years. HomeFront provides all registration services with new system installations at no charge to our clients.
Contractor Warranty: The standard warranty for labor is coverage for one year from the date of installation.
Service/Repair: Service and repairs typically fall under the same warranty as the equipment, with 10 years for registered equipment or parts, or five years without registration.
TEAM
HOMEFRONT PRO
Team HomeFront Pro is our exclusive and comprehensive warranty plan. This plan includes:
10-year parts and labor warranty from the date of installation
Coverage for all potential repairs needed within the next 10 years
*This plan must be purchased and combined with systemoptions or can be selected as an add-on item at the customer's request.
TEAM
HOMEFRONT CLUB
Team HomeFront Club is a two-year, complimentary maintenance plan that comes with every system. This plan includes monthly/annual maintenance for two years.
Team HomeFront Club Membership is available and encouraged for any customer with a qualifying system even if it is not installed by us.
*Maintenance coverage only. Labor coverage is not included. Customers may purchase extended coverage and/or upgrade to the Team HomeFront Pro warranty plan for labor coverage.
*Discounts cannot be combined.
Up to $1000 Off Instantly on Select Systems OR Zero Interest Financing W.A.C.
Nothing Down! No Interest Financing!
Need it Fast! We have you covered! While supplies last.
Veterans, First Responders and Educators
Never a Service Call and 15% off Repairs and Special System Replacement Pricing or Financing Promos
Home of Team HomeFront Pro
10 Years Parts and Labor Coverage
WHAT OUR HOMEFRONT CLIENTS ARE SAYING